Regal Page Boy Christening Waistcoat available in sizes 3 months to 6 years
£60.00
Size Guide
Our Gorgeous little Regal Page Boy Christening waistcoat in taffeta fabric, to compliment our Regal suit available in a selection of rich colours perfect for Christenings Weddings and special occasions.
Colour doesnt match your wedding theme? not a problem! we can produce this little set in any colour you require!
Made in our little studio in England.
---
---
---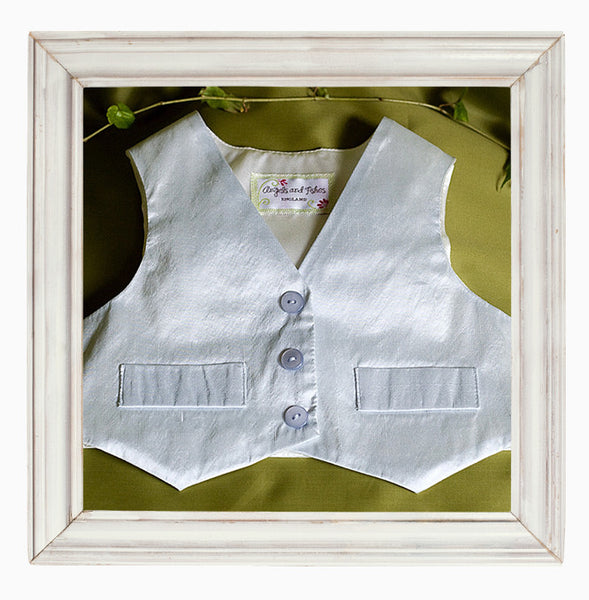 Boys Christening Waistcoat 'Gabriel'
£60.00
Size Guide
---
Gabriel Silk waistcoat available in a lovely choice of colours fully lined in soft satin...
Size Chart
Click here for our how to measure guide
Garments
Please note that these are body measurements and our garments will allow for fit and movement
|   | 0/3mth | 3/6mth | 6/9mth | 9/12mth | 12/18mth | 18mth/2y | 2/3y | 3/4y |
| --- | --- | --- | --- | --- | --- | --- | --- | --- |
| Chest (cm) | 43 | 46 | 47 | 48 | 50 | 52 | 53 | 55 |
| Height (cm) | 62 | 68 | 74 | 80 | 86 | 92 | 98 | 104 |
| Weight (kg) | 6 | 8 | 9.5 | 11 | n/a | n/a | n/a | n/a |
Hats and Bands
(approx hat/headband circumference)
| | | |
| --- | --- | --- |
| XS | 44cm | 3-6 months |
| S | 48cm | 6-12 months |
| M | 50 cm | 18-months - 3 years |
Shoe Sizes
(Length of shoe from heel to toe)*
| 0 | 1 | 2 | 3 |
| --- | --- | --- | --- |
| 9.5cm | 10.5cm | 11.2cm | 12.2cm |
| 0-3 months | 3-6 months | 6-12 months | 12-18 months |
Sock Sizes
| 0-0 | 0 - 2.5 | 3.5 |
| --- | --- | --- |
| 0-3 months | 6-12 months | 18 months - 2 years |
*Ages are approximate