Christening Booties 'Ronnie'
$33.00
Size Guide
Christening booties in soft ivory cotton linen look fabric. The perfect finishing touch to your little ones outfit. Comfortable cotton towelling lining soft waterproof sole. 
Made in England.
Size 0  0-3 month
Size 1  3-6 months
Size 2  6-12 months
Size 3  12-18 months 
---
---
---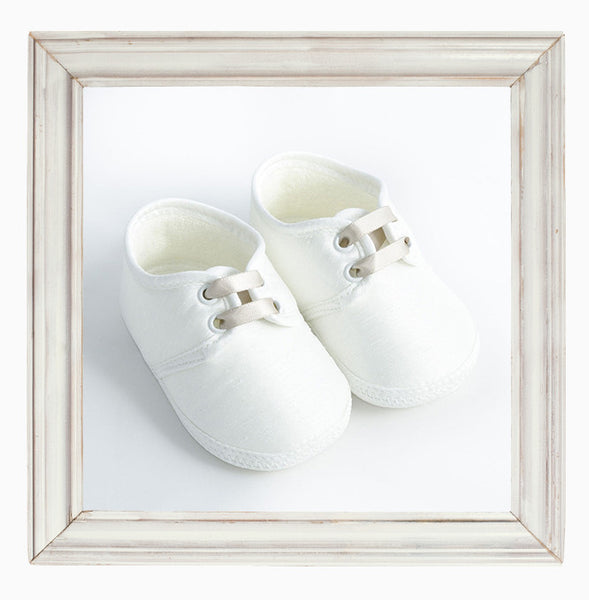 Boys Christening Shoes 'Cherub'
$45.00
Size Guide
---
Our delightful Cherub Christening Shoe is the perfect finishing touch to any of our boys...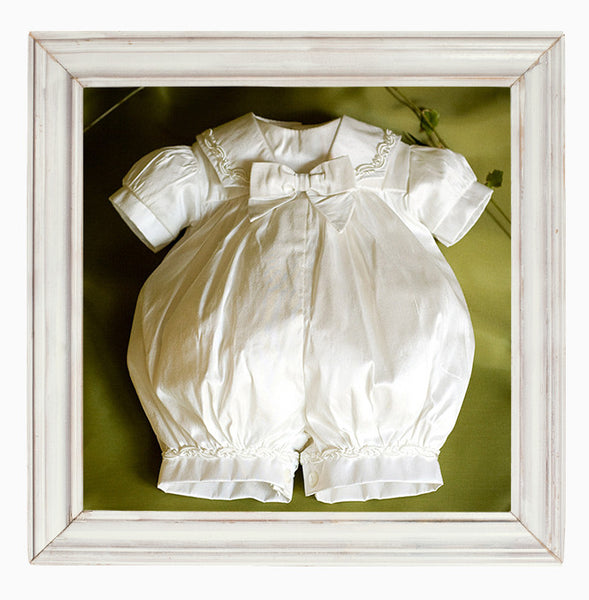 Christening outfit for Tiny Babies 'Cherub'
$93.00
Size Guide
---
Our Little Cherub All-in-one for Tiny Babies 2 - 5lb. Made from 100% Silk and...
Size Chart
Click here for our how to measure guide
Garments
Please note that these are body measurements and our garments will allow for fit and movement
|   | 0/3mth | 3/6mth | 6/9mth | 9/12mth | 12/18mth | 18mth/2y | 2/3y | 3/4y |
| --- | --- | --- | --- | --- | --- | --- | --- | --- |
| Chest (cm) | 43 | 46 | 47 | 48 | 50 | 52 | 53 | 55 |
| Height (cm) | 62 | 68 | 74 | 80 | 86 | 92 | 98 | 104 |
| Weight (kg) | 6 | 8 | 9.5 | 11 | n/a | n/a | n/a | n/a |
Hats and Bands
(approx hat/headband circumference)
| | | |
| --- | --- | --- |
| XS | 44cm | 3-6 months |
| S | 48cm | 6-12 months |
| M | 50 cm | 18-months - 3 years |
Shoe Sizes
(Length of shoe from heel to toe)*
| 0 | 1 | 2 | 3 |
| --- | --- | --- | --- |
| 9.5cm | 10.5cm | 11.2cm | 12.2cm |
| 0-3 months | 3-6 months | 6-12 months | 12-18 months |
Sock Sizes
| 0-0 | 0 - 2.5 | 3.5 |
| --- | --- | --- |
| 0-3 months | 6-12 months | 18 months - 2 years |
*Ages are approximate