Christening Hairband 'Eden'
$29.00
Size Guide
Eden Christening Hairband. Ivory coloured Soft cotton stretch band with Nottingham lace rosette finished with satin bow centre. A lovely finishing touch to any Christening outfit.
Made in England.
---
---
---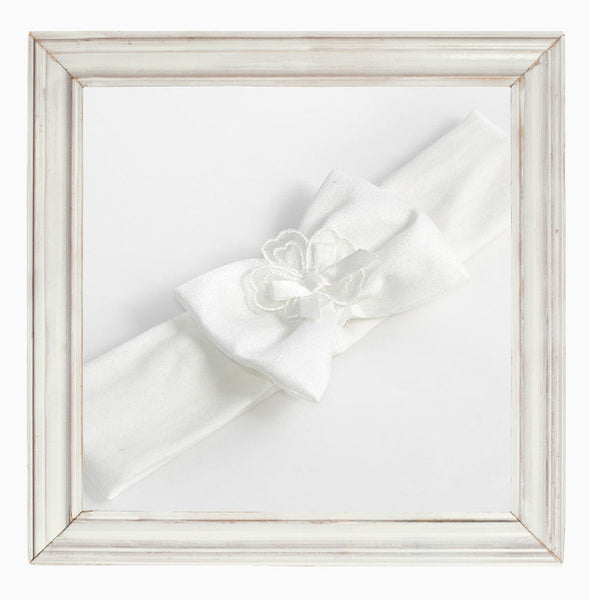 Christening Hair Band 'Grace'
$29.00
Size Guide
---
Grace Hairband Soft cotton lycra stretch band with pretty bow and flower detail the perfect...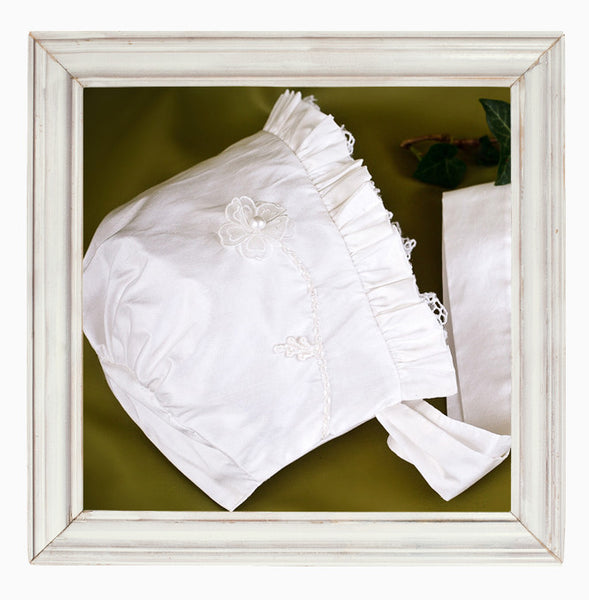 Christening Bonnet 'Eden'
$57.00
Size Guide
---
Beautiful Eden Silk Christening Bonnet traditional style with frilled front, pretty flower detailing with pearl...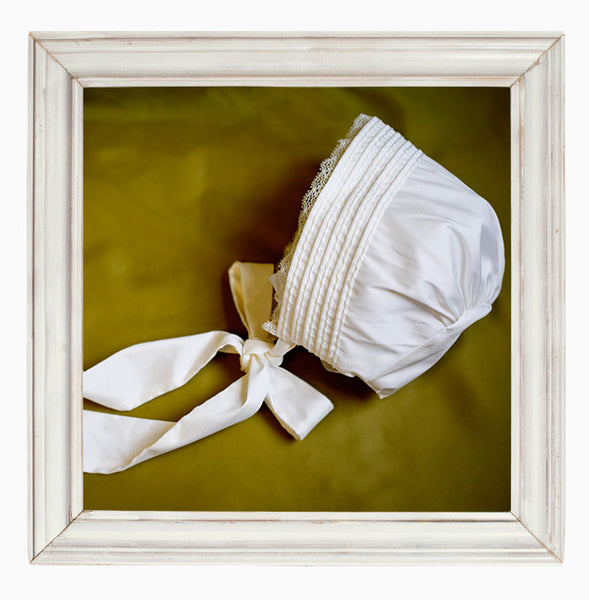 Christening Bonnet 'Faith'
$45.00
Size Guide
---
Traditional Christening Bonnet in Taffetta with pin tuck detail and lace trim, a lovely match...
Size Chart
Click here for our how to measure guide
Garments
Please note that these are body measurements and our garments will allow for fit and movement
|   | 0/3mth | 3/6mth | 6/9mth | 9/12mth | 12/18mth | 18mth/2y | 2/3y | 3/4y |
| --- | --- | --- | --- | --- | --- | --- | --- | --- |
| Chest (cm) | 43 | 46 | 47 | 48 | 50 | 52 | 53 | 55 |
| Height (cm) | 62 | 68 | 74 | 80 | 86 | 92 | 98 | 104 |
| Weight (kg) | 6 | 8 | 9.5 | 11 | n/a | n/a | n/a | n/a |
Hats and Bands
(approx hat/headband circumference)
| | | |
| --- | --- | --- |
| XS | 44cm | 3-6 months |
| S | 48cm | 6-12 months |
| M | 50 cm | 18-months - 3 years |
Shoe Sizes
(Length of shoe from heel to toe)*
| 0 | 1 | 2 | 3 |
| --- | --- | --- | --- |
| 9.5cm | 10.5cm | 11.2cm | 12.2cm |
| 0-3 months | 3-6 months | 6-12 months | 12-18 months |
Sock Sizes
| 0-0 | 0 - 2.5 | 3.5 |
| --- | --- | --- |
| 0-3 months | 6-12 months | 18 months - 2 years |
*Ages are approximate