Girls Christening shoes 'Valencia'
$42.00
Size Guide
Girls Christening shoes in pale Ivory.
Our gorgeous little 'Valencia' Christening shoes are the perfect accessory for any Christening outfit.
Pale Ivory patent Pram shoe, featuring pretty lace motifs to front of shoe with a satin bow and pearl bead centre.
Easy button and bar fastening.
This item is in stock and available for immediate dispatch.
Handmade in England.
---
---
---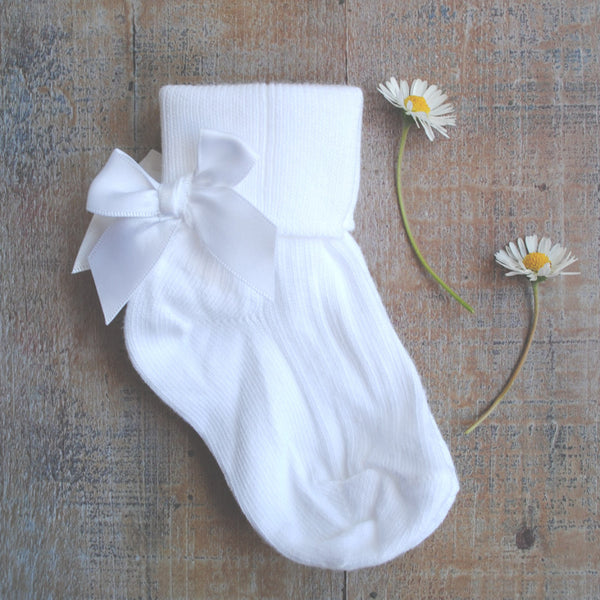 Bridesmaid socks 'Ava'
$13.00
Size Guide
---
Simple and stylish soft cotton Bridesmaid socks, available in White and Ivory. Turn over top...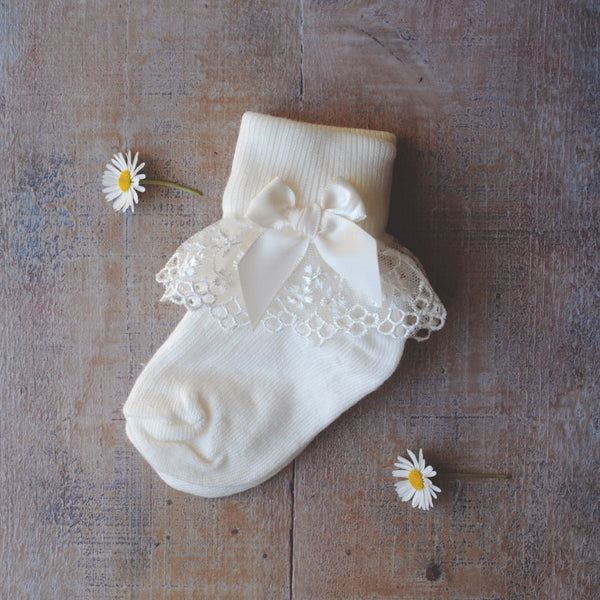 Bridesmaid socks 'Eden'
$18.00
Size Guide
---
Eden Girls Christening socks. Pretty little Cotton socks with Beautiful lace trim and satin bow...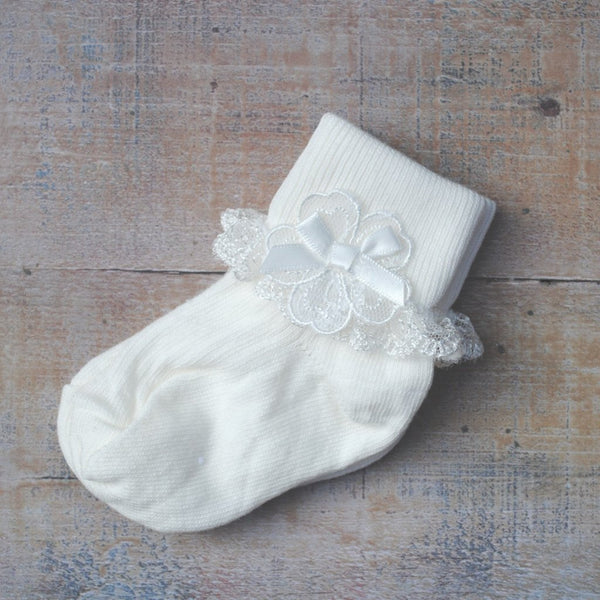 Bridesmaid socks 'Grace'
$17.00
Size Guide
---
Pretty Grace Ivory Bridesmaid socks. Soft cotton with pretty lace trim, flower and little satin...
Size Chart
Click here for our how to measure guide
Garments
Please note that these are body measurements and our garments will allow for fit and movement
|   | 0/3mth | 3/6mth | 6/9mth | 9/12mth | 12/18mth | 18mth/2y | 2/3y | 3/4y |
| --- | --- | --- | --- | --- | --- | --- | --- | --- |
| Chest (cm) | 43 | 46 | 47 | 48 | 50 | 52 | 53 | 55 |
| Height (cm) | 62 | 68 | 74 | 80 | 86 | 92 | 98 | 104 |
| Weight (kg) | 6 | 8 | 9.5 | 11 | n/a | n/a | n/a | n/a |
Hats and Bands
(approx hat/headband circumference)
| | | |
| --- | --- | --- |
| XS | 44cm | 3-6 months |
| S | 48cm | 6-12 months |
| M | 50 cm | 18-months - 3 years |
Shoe Sizes
(Length of shoe from heel to toe)*
| 0 | 1 | 2 | 3 |
| --- | --- | --- | --- |
| 9.5cm | 10.5cm | 11.2cm | 12.2cm |
| 0-3 months | 3-6 months | 6-12 months | 12-18 months |
Sock Sizes
| 0-0 | 0 - 2.5 | 3.5 |
| --- | --- | --- |
| 0-3 months | 6-12 months | 18 months - 2 years |
*Ages are approximate