Regal Flower girl dress
£170.00
Size Guide
Red flower girl dress or little red bridesmaid dress our 'Regal' flower girl dress is perfect for your little one and also available in Teal and Navy Blue Jewel coloured Taffeta.
Fully lined with soft netting to hold shape. Prettly guipure lace band across front bodice and soft lace trim on neckline and Angel sleeves. Sash to back which ties into a sumptuous bow.
Colour doesnt match your wedding theme? not a problem! we can produce this beautiful dress in any colour you require!
For a perfect fit please refer to our size chart or contact us for a bespoke size.
Made in our little studio in England.
---
---
---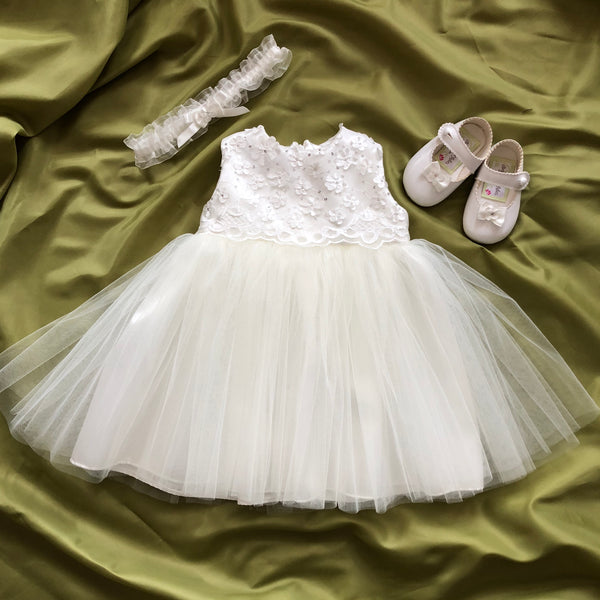 Christening Dress Set 'Twinkle'
£165.00
Size Guide
---
Christening Dress set 'Twinkle' This pretty little Christening dress set comprises of Sleeveless dress, hairband...
Size Chart
Click here for our how to measure guide
Garments
Please note that these are body measurements and our garments will allow for fit and movement
|   | 0/3mth | 3/6mth | 6/9mth | 9/12mth | 12/18mth | 18mth/2y | 2/3y | 3/4y |
| --- | --- | --- | --- | --- | --- | --- | --- | --- |
| Chest (cm) | 43 | 46 | 47 | 48 | 50 | 52 | 53 | 55 |
| Height (cm) | 62 | 68 | 74 | 80 | 86 | 92 | 98 | 104 |
| Weight (kg) | 6 | 8 | 9.5 | 11 | n/a | n/a | n/a | n/a |
Hats and Bands
(approx hat/headband circumference)
| | | |
| --- | --- | --- |
| XS | 44cm | 3-6 months |
| S | 48cm | 6-12 months |
| M | 50 cm | 18-months - 3 years |
Shoe Sizes
(Length of shoe from heel to toe)*
| 0 | 1 | 2 | 3 |
| --- | --- | --- | --- |
| 9.5cm | 10.5cm | 11.2cm | 12.2cm |
| 0-3 months | 3-6 months | 6-12 months | 12-18 months |
Sock Sizes
| 0-0 | 0 - 2.5 | 3.5 |
| --- | --- | --- |
| 0-3 months | 6-12 months | 18 months - 2 years |
*Ages are approximate