Personalised Christening Shawl
£96.00
Size Guide
Beautiful Silk Christening shawl which can be embroidered with little ones name and date of  occasion or a special message. Trimmed with Nottingham lace, guipure braid, delicate flowers and backed with soft satin this luxurious shawl is the perfect gift and keepsake.
Made in our little studio in England.
---
---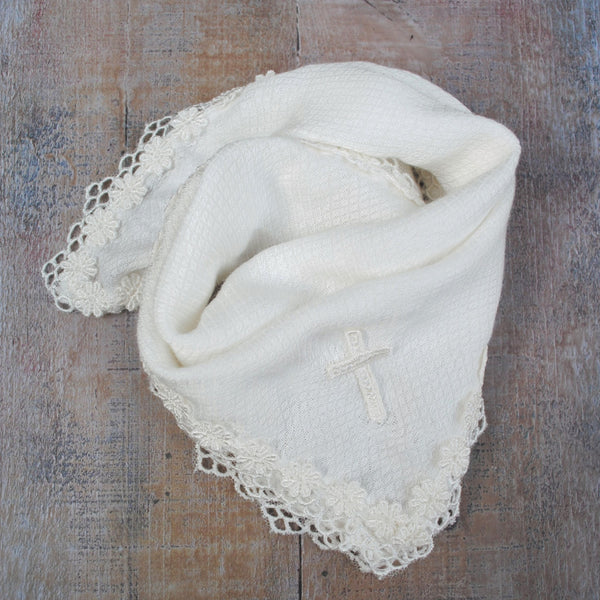 Bamboo comforter with lace trim
£30.00
Size Guide
---
Our gorgeous little Bamboo lace trim comforter, will help sooth baby and stylishly wipe away...
Bib silk and lace trim
£35.00
Size Guide
---
Silk Christening bib with pretty lace trim. A lovely gift and memory of little ones...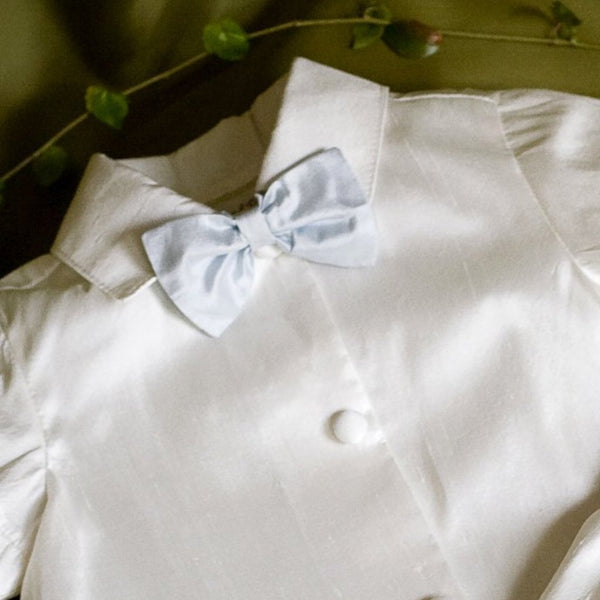 Boys Bow tie 'Gabriel'
£20.00
Size Guide
---
Bow tie for little boys, velcro fastening in Silk dupion . Sizes 3 months -...
Size Chart
Click here for our how to measure guide
Garments
Please note that these are body measurements and our garments will allow for fit and movement
|   | 0/3mth | 3/6mth | 6/9mth | 9/12mth | 12/18mth | 18mth/2y | 2/3y | 3/4y |
| --- | --- | --- | --- | --- | --- | --- | --- | --- |
| Chest (cm) | 43 | 46 | 47 | 48 | 50 | 52 | 53 | 55 |
| Height (cm) | 62 | 68 | 74 | 80 | 86 | 92 | 98 | 104 |
| Weight (kg) | 6 | 8 | 9.5 | 11 | n/a | n/a | n/a | n/a |
Hats and Bands
(approx hat/headband circumference)
| | | |
| --- | --- | --- |
| XS | 44cm | 3-6 months |
| S | 48cm | 6-12 months |
| M | 50 cm | 18-months - 3 years |
Shoe Sizes
(Length of shoe from heel to toe)*
| 0 | 1 | 2 | 3 |
| --- | --- | --- | --- |
| 9.5cm | 10.5cm | 11.2cm | 12.2cm |
| 0-3 months | 3-6 months | 6-12 months | 12-18 months |
Sock Sizes
| 0-0 | 0 - 2.5 | 3.5 |
| --- | --- | --- |
| 0-3 months | 6-12 months | 18 months - 2 years |
*Ages are approximate