Christening Bonnet 'Faith'
$45.00
Size Guide
Traditional Christening Bonnet in Taffetta with pin tuck detail and lace trim, a lovely match for our faith dress and gown. Available in both White and Ivory.
Made i our little studio in England
---
---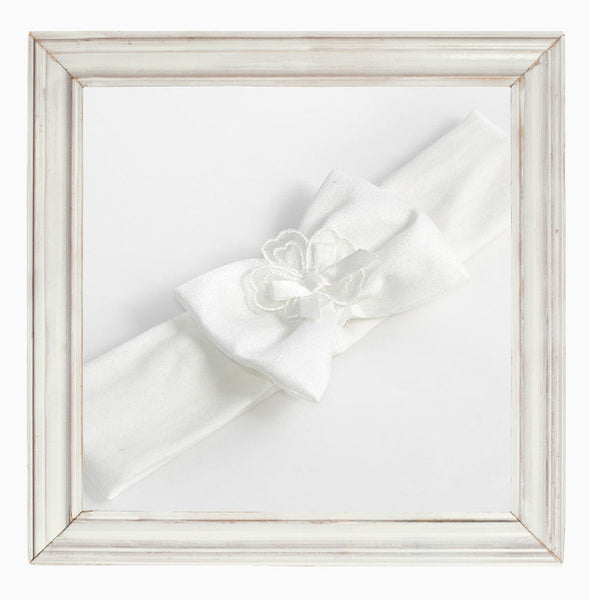 Christening Hair Band 'Grace'
$29.00
Size Guide
---
Grace Hairband Soft cotton lycra stretch band with pretty bow and flower detail the perfect...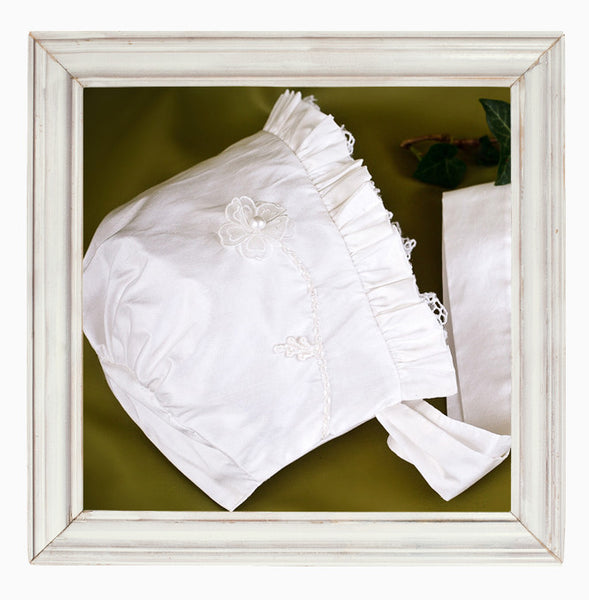 Christening Bonnet 'Eden'
$57.00
Size Guide
---
Beautiful Eden Silk Christening Bonnet traditional style with frilled front, pretty flower detailing with pearl...
Christening Bonnet 'Flower Fairy'
$52.00
Size Guide
---
Our Beautiful Silk Flower fairy Christening bonnet trimmed with delicate lace and flower trim a...
Size Chart
Click here for our how to measure guide
Garments
Please note that these are body measurements and our garments will allow for fit and movement
|   | 0/3mth | 3/6mth | 6/9mth | 9/12mth | 12/18mth | 18mth/2y | 2/3y | 3/4y |
| --- | --- | --- | --- | --- | --- | --- | --- | --- |
| Chest (cm) | 43 | 46 | 47 | 48 | 50 | 52 | 53 | 55 |
| Height (cm) | 62 | 68 | 74 | 80 | 86 | 92 | 98 | 104 |
| Weight (kg) | 6 | 8 | 9.5 | 11 | n/a | n/a | n/a | n/a |
Hats and Bands
(approx hat/headband circumference)
| | | |
| --- | --- | --- |
| XS | 44cm | 3-6 months |
| S | 48cm | 6-12 months |
| M | 50 cm | 18-months - 3 years |
Shoe Sizes
(Length of shoe from heel to toe)*
| 0 | 1 | 2 | 3 |
| --- | --- | --- | --- |
| 9.5cm | 10.5cm | 11.2cm | 12.2cm |
| 0-3 months | 3-6 months | 6-12 months | 12-18 months |
Sock Sizes
| 0-0 | 0 - 2.5 | 3.5 |
| --- | --- | --- |
| 0-3 months | 6-12 months | 18 months - 2 years |
*Ages are approximate