Personalised Christening Shoes Angel
$52.00
Size Guide
Personalised Christening Shoes handmade in England. -please contact us if you need a longer name than the listing allows -
These adorable little Christening shoes are available in Ivory Silk or White satin.
The sole of the shoe is embroidered with the name and date of little ones special day.
Any questions please call we will be happy to help
Made in England.
---
---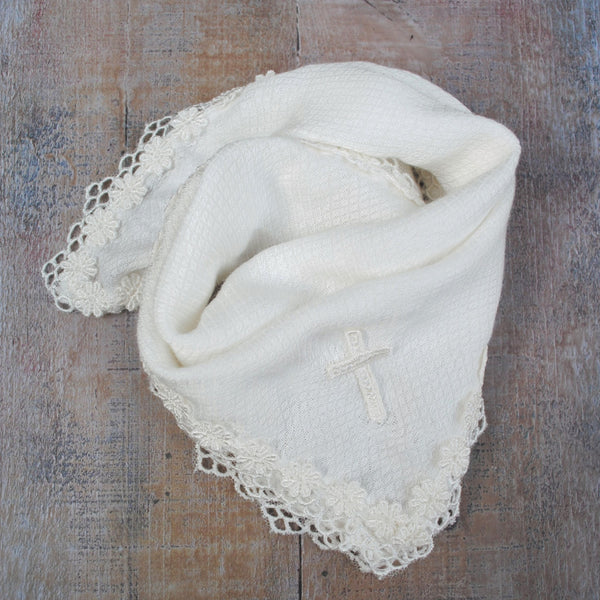 Bamboo comforter with lace trim
$39.00
Size Guide
---
Our gorgeous little Bamboo lace trim comforter, will help sooth baby and stylishly wipe away...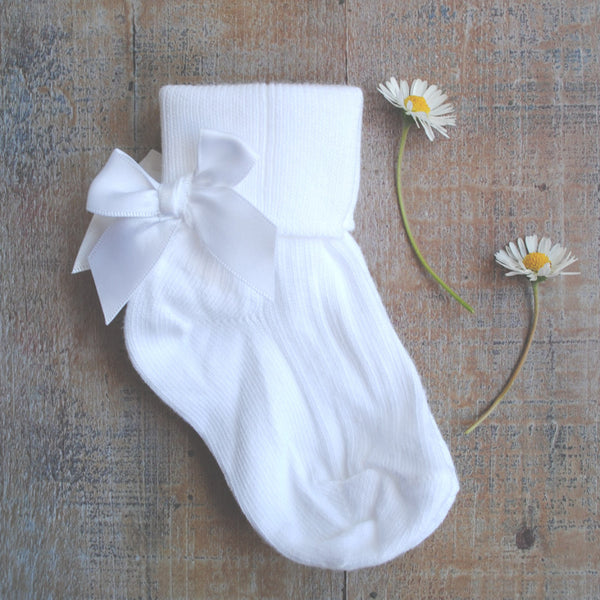 Bridesmaid socks 'Ava'
$13.00
Size Guide
---
Simple and stylish soft cotton Bridesmaid socks, available in White and Ivory. Turn over top...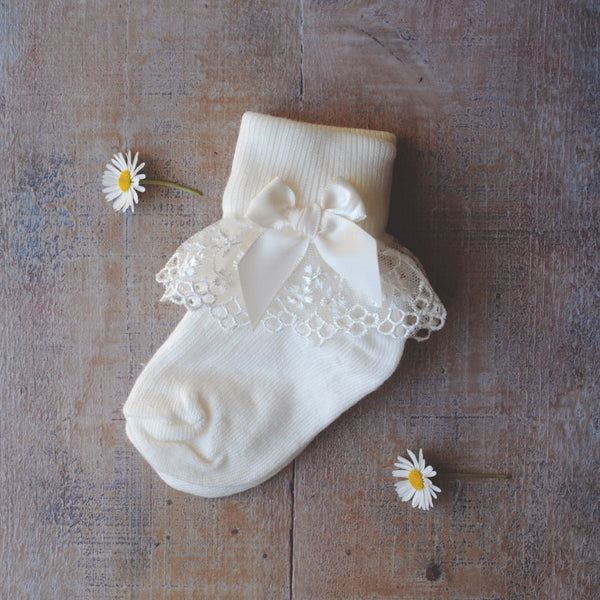 Bridesmaid socks 'Eden'
$18.00
Size Guide
---
Eden Girls Christening socks. Pretty little Cotton socks with Beautiful lace trim and satin bow...
Size Chart
Click here for our how to measure guide
Garments
Please note that these are body measurements and our garments will allow for fit and movement
|   | 0/3mth | 3/6mth | 6/9mth | 9/12mth | 12/18mth | 18mth/2y | 2/3y | 3/4y |
| --- | --- | --- | --- | --- | --- | --- | --- | --- |
| Chest (cm) | 43 | 46 | 47 | 48 | 50 | 52 | 53 | 55 |
| Height (cm) | 62 | 68 | 74 | 80 | 86 | 92 | 98 | 104 |
| Weight (kg) | 6 | 8 | 9.5 | 11 | n/a | n/a | n/a | n/a |
Hats and Bands
(approx hat/headband circumference)
| | | |
| --- | --- | --- |
| XS | 44cm | 3-6 months |
| S | 48cm | 6-12 months |
| M | 50 cm | 18-months - 3 years |
Shoe Sizes
(Length of shoe from heel to toe)*
| 0 | 1 | 2 | 3 |
| --- | --- | --- | --- |
| 9.5cm | 10.5cm | 11.2cm | 12.2cm |
| 0-3 months | 3-6 months | 6-12 months | 12-18 months |
Sock Sizes
| 0-0 | 0 - 2.5 | 3.5 |
| --- | --- | --- |
| 0-3 months | 6-12 months | 18 months - 2 years |
*Ages are approximate