Raphael (Braid Trim) Unisex Christening Gown
$354.00
Size Guide
Our stunning Braid Trimmed Raphael Unisex Christening Gown is sure to become a family heirloom, 100% Silk dupion with Guipure braid trim and silk bow detail on front bodice.
This heirloom Christening Gown is fully lined in soft satin fabric for baby's comfort and with a little soft netting to help hold shape.
Compliment with our matching Braid Trimmed Raphael Bonnet and Gabriel Booties.
Please note this design is custom made to order in our Studio in England, please allow 2 - 4 weeks for its creation.
For a perfect fit please refer to our size chart or alternatively choose the Bespoke size option and we will contact you for measurements.
---
---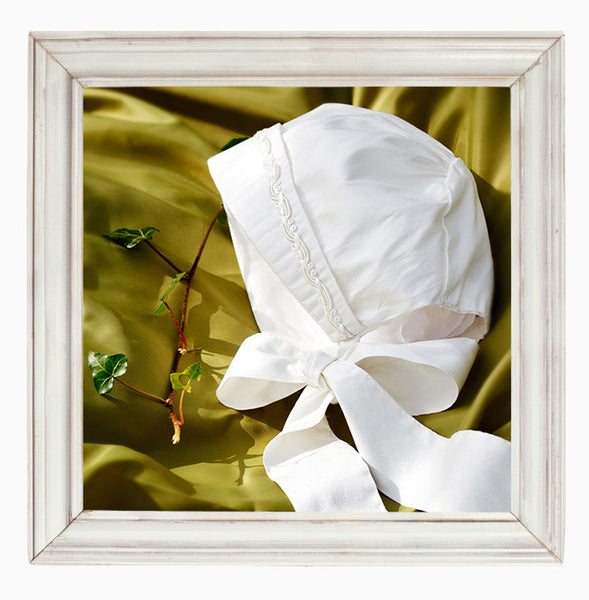 Raphael Bonnet (Brocade)
$52.00
Size Guide
---
Raphael Silk and Braid trim Unisex bonnet this lovely little Bonnet is the perfect finishing...
Size Chart
Click here for our how to measure guide
Garments
Please note that these are body measurements and our garments will allow for fit and movement
|   | 0/3mth | 3/6mth | 6/9mth | 9/12mth | 12/18mth | 18mth/2y | 2/3y | 3/4y |
| --- | --- | --- | --- | --- | --- | --- | --- | --- |
| Chest (cm) | 43 | 46 | 47 | 48 | 50 | 52 | 53 | 55 |
| Height (cm) | 62 | 68 | 74 | 80 | 86 | 92 | 98 | 104 |
| Weight (kg) | 6 | 8 | 9.5 | 11 | n/a | n/a | n/a | n/a |
Hats and Bands
(approx hat/headband circumference)
| | | |
| --- | --- | --- |
| XS | 44cm | 3-6 months |
| S | 48cm | 6-12 months |
| M | 50 cm | 18-months - 3 years |
Shoe Sizes
(Length of shoe from heel to toe)*
| 0 | 1 | 2 | 3 |
| --- | --- | --- | --- |
| 9.5cm | 10.5cm | 11.2cm | 12.2cm |
| 0-3 months | 3-6 months | 6-12 months | 12-18 months |
Sock Sizes
| 0-0 | 0 - 2.5 | 3.5 |
| --- | --- | --- |
| 0-3 months | 6-12 months | 18 months - 2 years |
*Ages are approximate