Royal Christening Gown
$1,279.00
Size Guide
Royal Christening Gown.
Inspiration for this gown has been taken from the Royal family gown most recently worn by Prince Louis.
This Striking Christening gown is over 1.3 metres in length with layers of Silk and lace and fully lined in soft satin. The back of the gown is open from the waist to allow for easier handling of your little one.
Please note this is a limited edition style, we will only be making a small number from our little studio in England.
---
---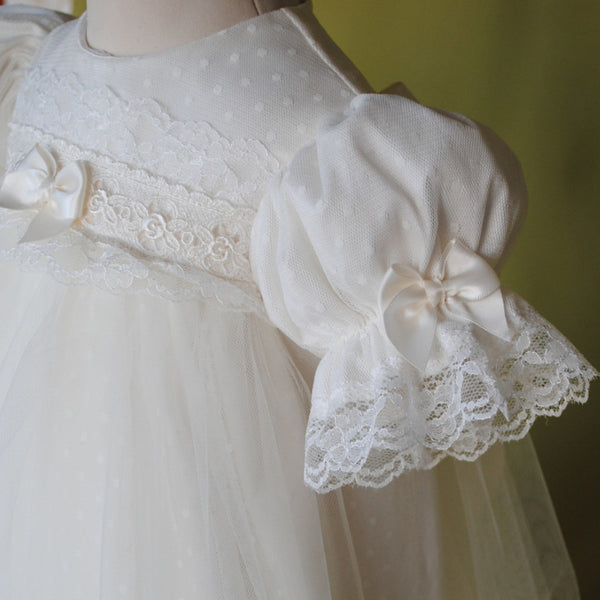 Christening Gown - Pheobe
$270.00
Size Guide
---
Gorgeous Christening gown in traditional in style. The bodice is 100% Silk dupion overlayed with...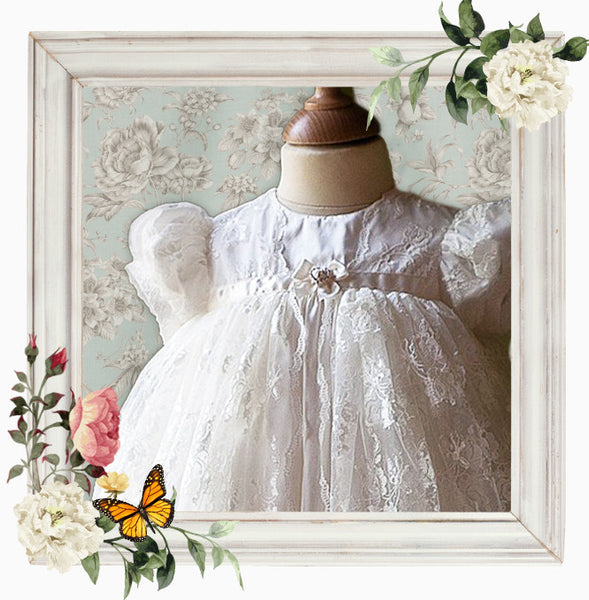 Christening Gown 'Amelie' Silk and Lace
$360.00
Size Guide
---
Silk and lace Christening Gown handmade in U.K. Our beautiful Amelie silk and lace Christening...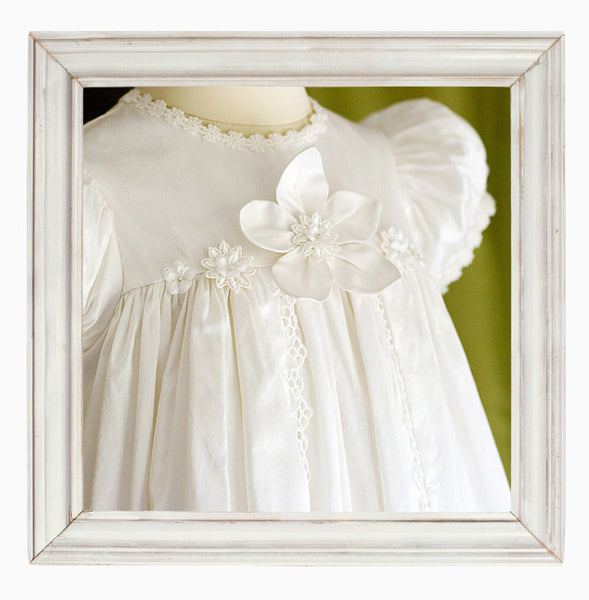 Christening Gown 'Flower Fairy'
$335.00
Size Guide
---
Christening Gown in Silk dupion our Flower fairy is a lovely contemporary style gown in...
Size Chart
Click here for our how to measure guide
Garments
Please note that these are body measurements and our garments will allow for fit and movement
|   | 0/3mth | 3/6mth | 6/9mth | 9/12mth | 12/18mth | 18mth/2y | 2/3y | 3/4y |
| --- | --- | --- | --- | --- | --- | --- | --- | --- |
| Chest (cm) | 43 | 46 | 47 | 48 | 50 | 52 | 53 | 55 |
| Height (cm) | 62 | 68 | 74 | 80 | 86 | 92 | 98 | 104 |
| Weight (kg) | 6 | 8 | 9.5 | 11 | n/a | n/a | n/a | n/a |
Hats and Bands
(approx hat/headband circumference)
| | | |
| --- | --- | --- |
| XS | 44cm | 3-6 months |
| S | 48cm | 6-12 months |
| M | 50 cm | 18-months - 3 years |
Shoe Sizes
(Length of shoe from heel to toe)*
| 0 | 1 | 2 | 3 |
| --- | --- | --- | --- |
| 9.5cm | 10.5cm | 11.2cm | 12.2cm |
| 0-3 months | 3-6 months | 6-12 months | 12-18 months |
Sock Sizes
| 0-0 | 0 - 2.5 | 3.5 |
| --- | --- | --- |
| 0-3 months | 6-12 months | 18 months - 2 years |
*Ages are approximate